Posted by atomicboyx
On Tuesday, October 26, 2010
0 comments
Mister Donut Anniversary Chocolate collaboration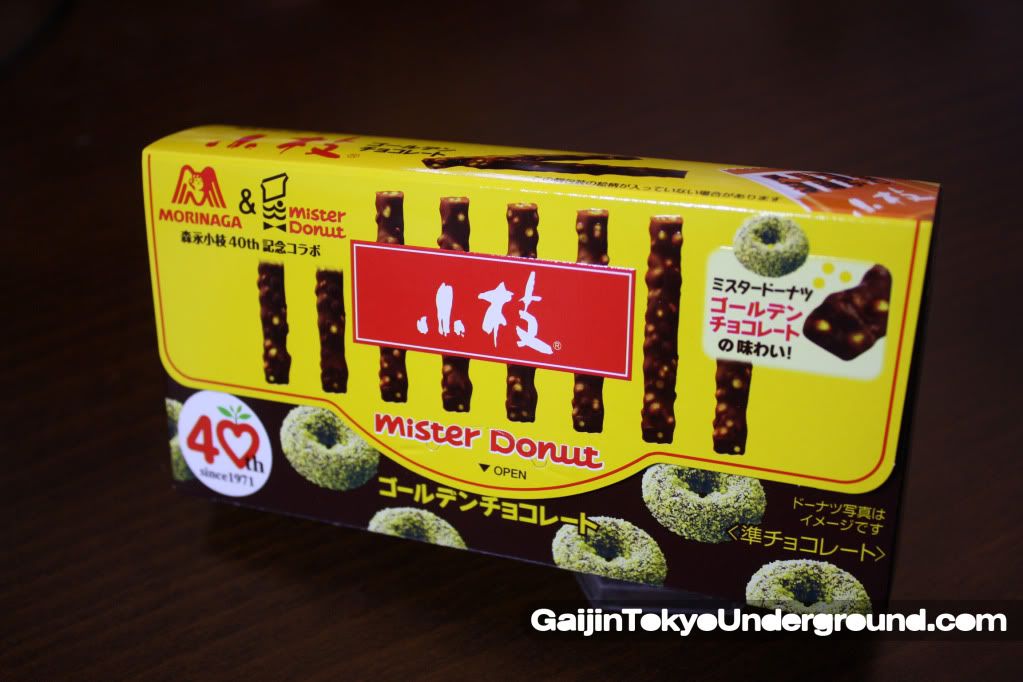 Mister Donut Japan is celebrating its 40th anniversary by brining back many of its popular special donuts from the past four decades. Morinaga & Company, Ltd. has been producing confectionaries since 1899 and is also promoting the 40th anniversary of its Koeda 小枝 chocolate stick. One of the Mister Donut's retro flavors is the Golden Chocolate donut, which debuted in 1971. Together they are releasing a collaboration of its Golden Chocolate's crunchy topping and mixing it with the Koeda chocolate stick as a double 40th anniversary limited edition. This product stands out from most of Mister Donut anniversary products because of its non-availability through its donut chain stores. This product is available in the general consumer mass market and is displayed at many POS and aisle end caps.




http://www.misterdonut.jp/

http://www.morinaga.co.jp/index.html


Mister Donut 40th Anniversary fans event.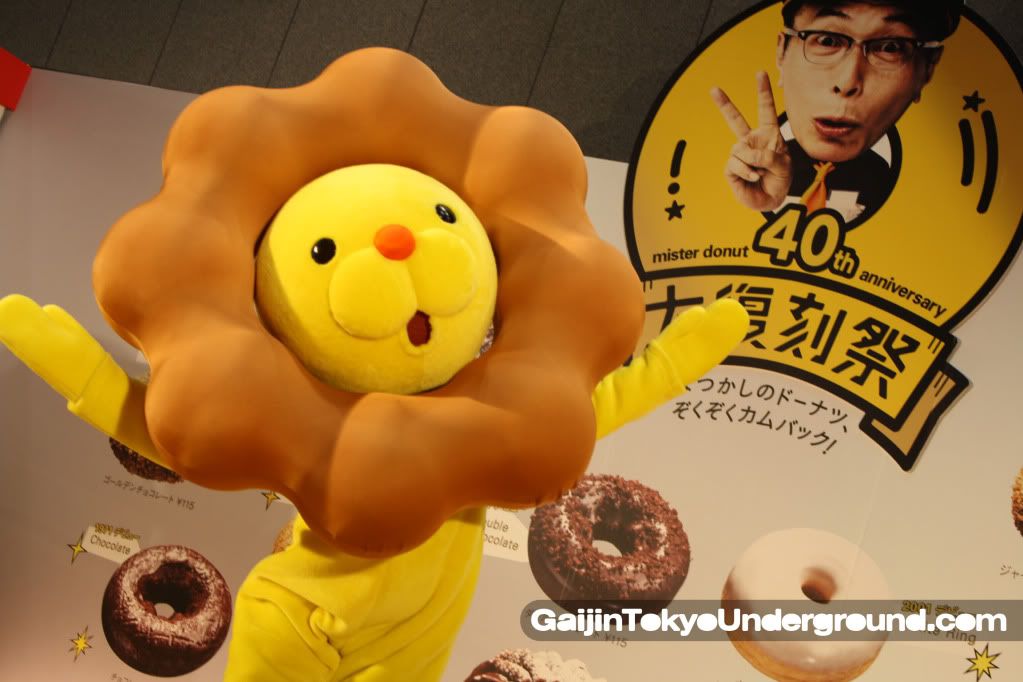 For the 40th Anniversary of Mister Donut, the company held a special promotion for the public at Yurakucho in Tokyo. The event showcased its history in Japan with its line of Uniforms on display. Along side of them were cut outs of the vintage uniforms where you could pop your head in for a photo and little laugh. A give-a-way pavilion was also set up displaying many of its MisuDo point card gifts, from each of the last 4 decades.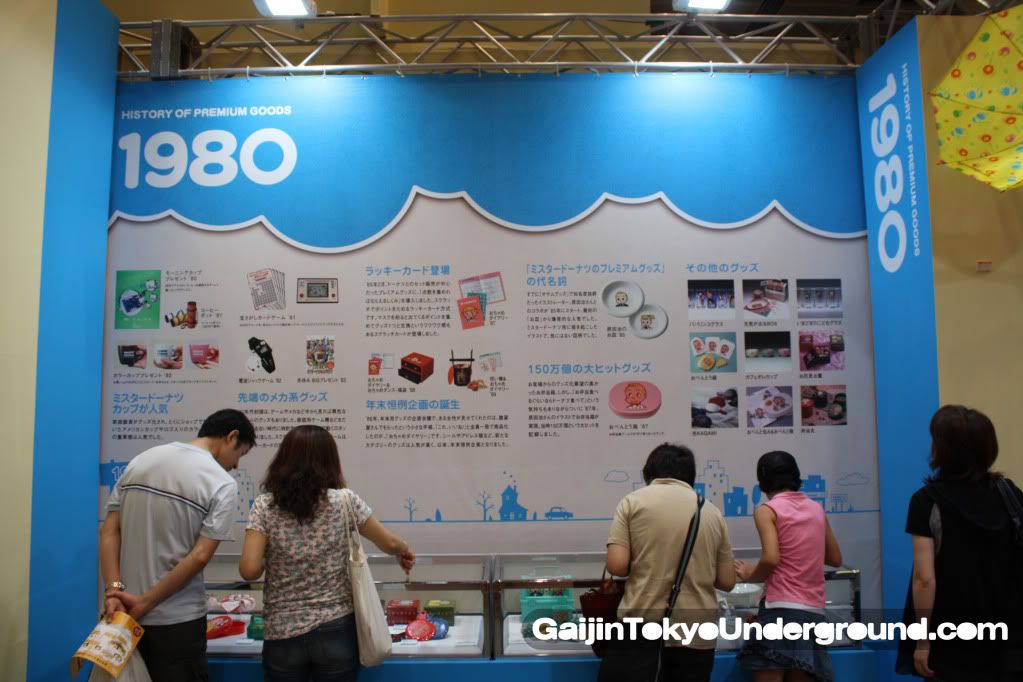 After a photo opportunity with the Mister Donut mascot, Pon De Lion, video rolled for the Mister Donut commercials of the past few decades. The crowd gave a collected "Ahh" when the famous spokesman George Tokoro came on screen. Tokoro is famous for being a comedian, singer and actor, but is known for being the commercial spokesman for Mister Donut from 1986-2001. Tokoro has probably become synonymous with Mister Donut because of his long standing as the spokesman. Mister Donut has brought back Tokoro for its anniversary event, reprising his role as a Manager of a Mister Donut for the commercial campaign.





A highlight of the event was for the lucky first 2,000 show attendees of the day, to get a free German Chocolate donut. Lucky? Free items, without a previous purchase, are not as common as it is in the States. A free no strings attached item is a nice change in Japan.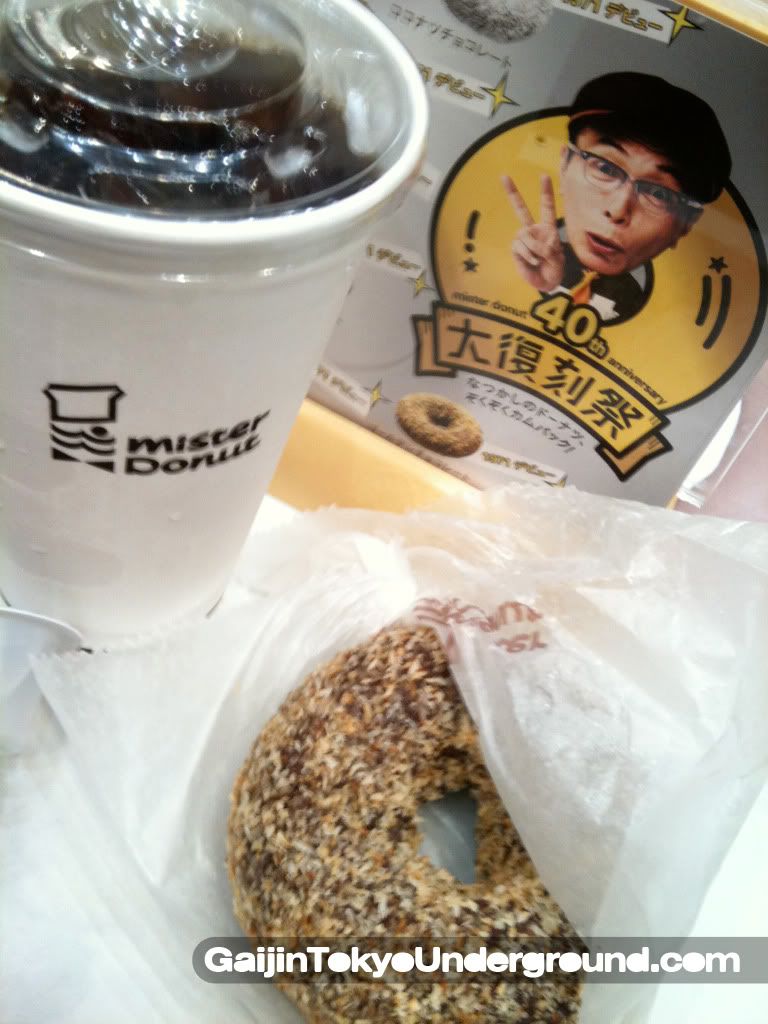 What is Café Andonand?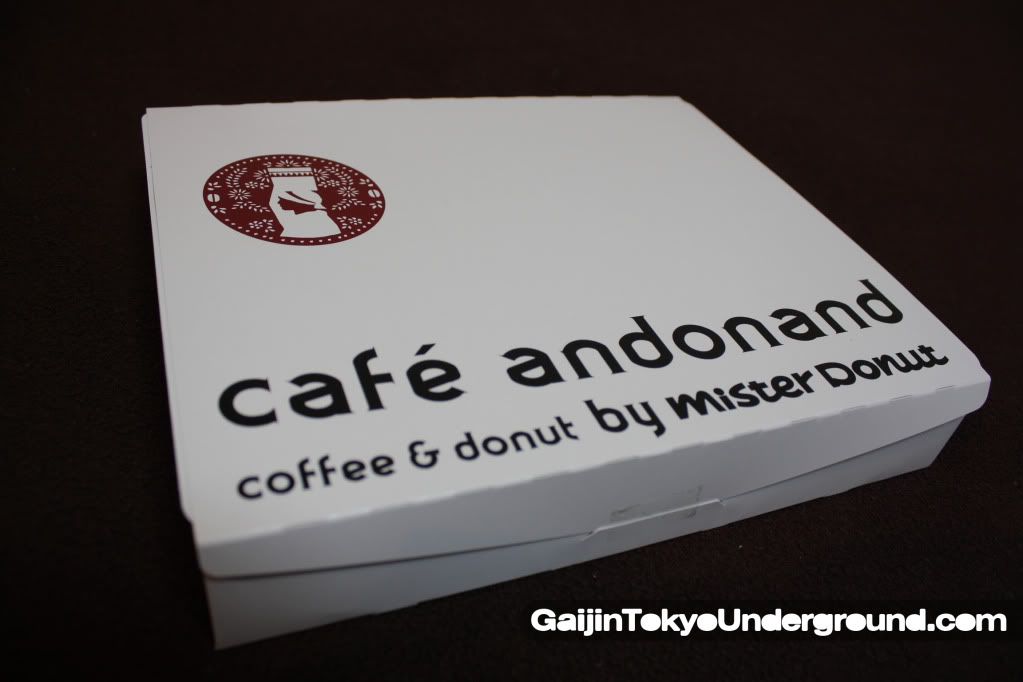 While Mister Donut is celebrating its 40th Anniversary in Japan, Mister Donut and its parent company Duskin have made a slow quiet entrance with its high-end donut café, Café Andonand which opened its first location in 2007 and just opening its latest location in the Chuo Ward.




With just a handful of locations, 4 in Tokyo and 3 covering the rest of Japan, it is a surprise to know that it even exists. Given the vast amounts of Mister Donut locations, Café Andonand has crafted a balance of the sweet and tasteful. Offering higher quality and specialty flavors like "Blueberry Cheese" and "Chocolate Cranberry" at 180-430 yen a pop; it is something better worth the experience. Café Andonand's donut styling seems to be up to par in direct competition with the NY Donut plant, but offering full sit down relaxing environments, rather than the train stations buy-n-go style.




For those who had the chance to visit the Mister Donut Anniversary event, may have only just heard of Café Andonand when on their way out of the venue. With a small booth selling a 4-pack sample set for 1,000 yen, it was a chance to taste the relatively unknown brand to the loyal customers of Mister Donut. For the anniversary event, this small booth was probably the single best marketing promotion that was done for the Duskin brands in expanding its high-end donut brand.

http://www.andonand.jp/index.html
Posted by

atomicboyx
at 8:43 PM